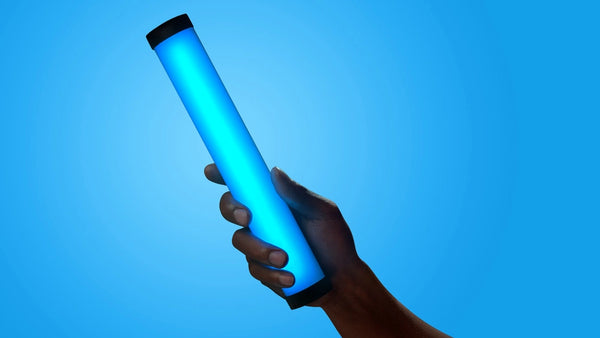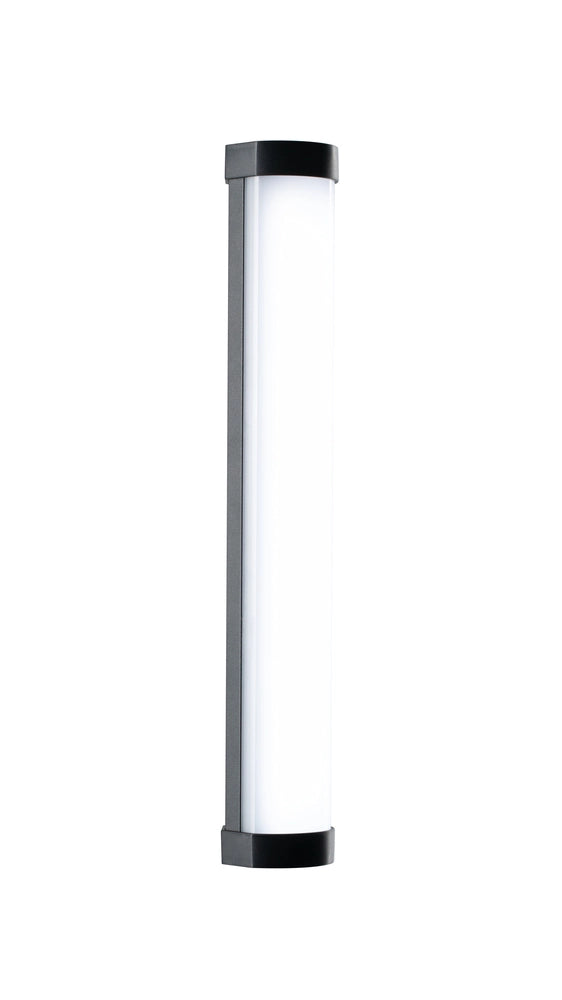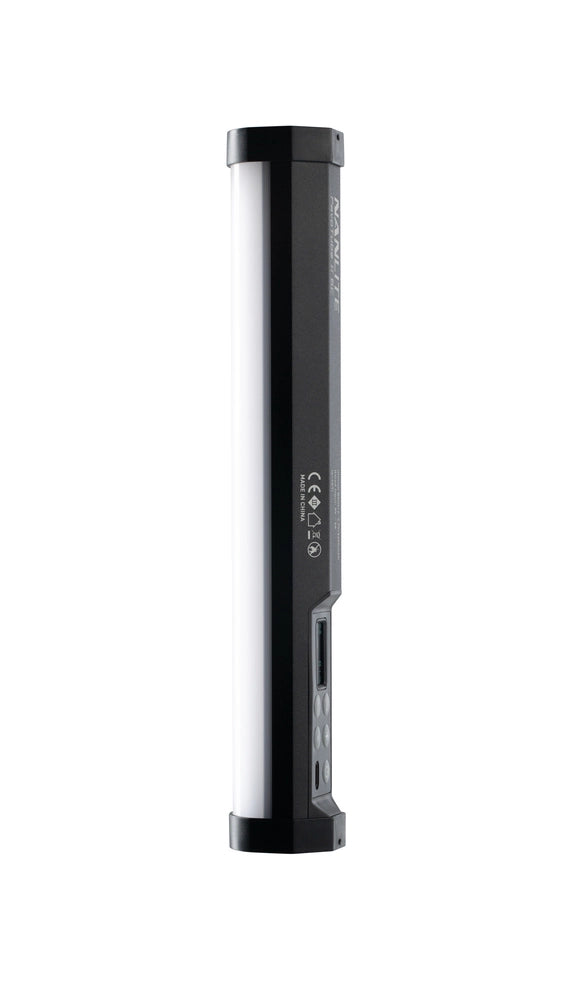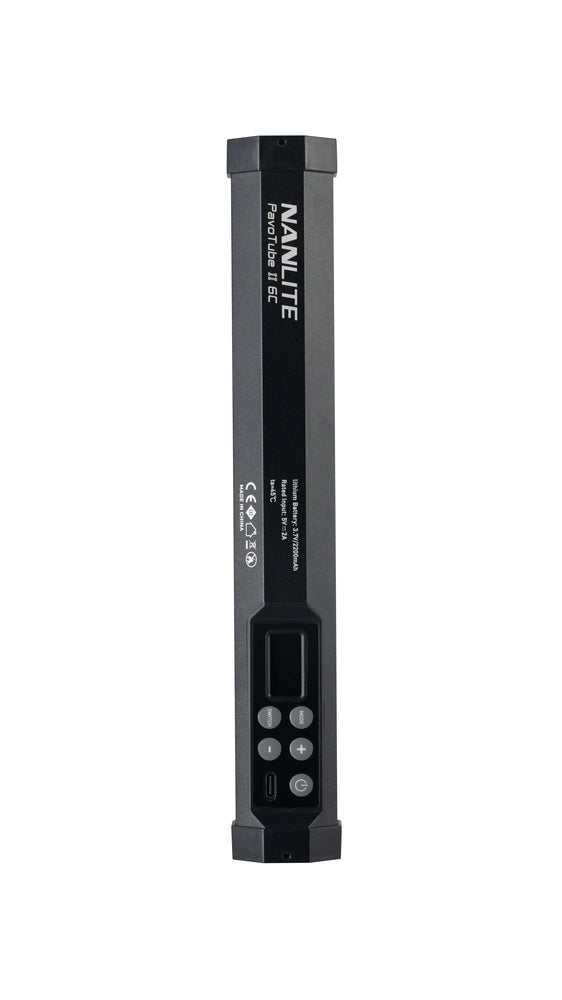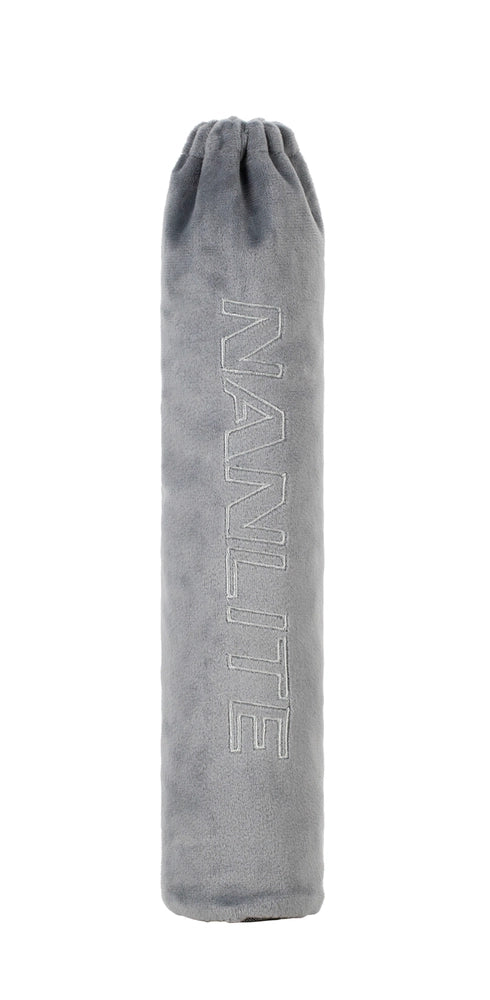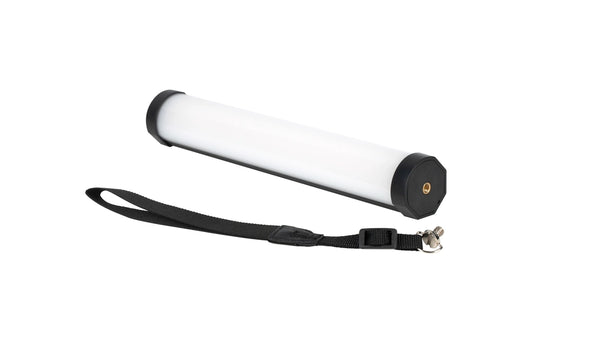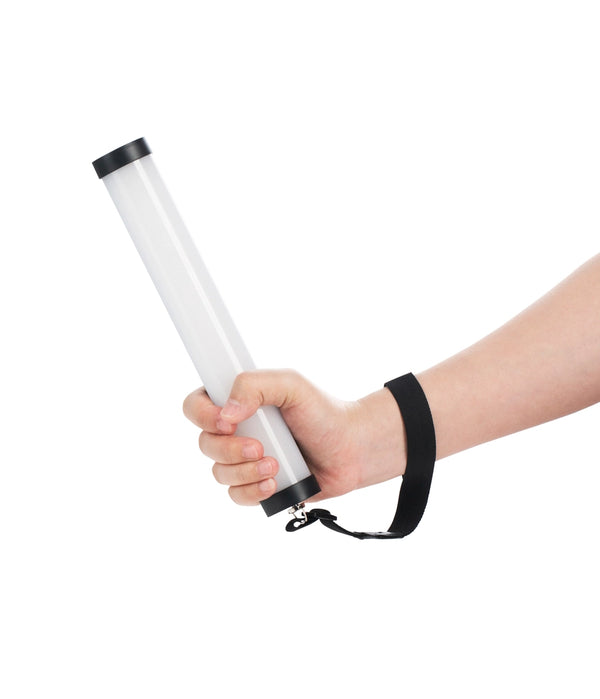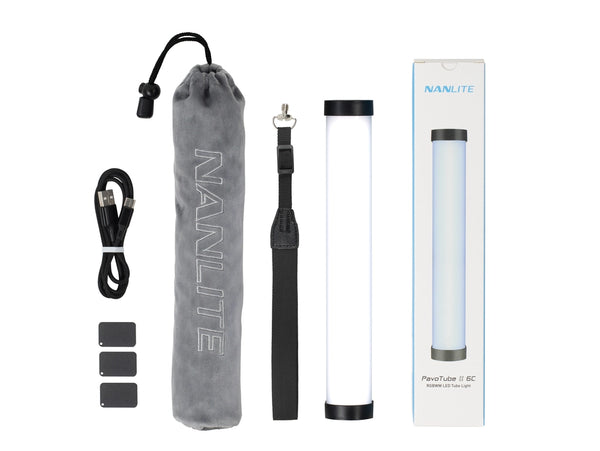 The baby pavotube, ideal for special effects  
Let your creativity run wild with these LED tubes. Put a splash of colour onto a background, or light up your subject with a specific hue. The PavoTubes feature 0 to 100% dimming, as well as a full spectrum RGB and pre-programmed special lighting effects. With the colour temperature adjustable from 6500-2700K, a CRI of 98 and a TLCI of 95 this RGB LED tube exceeds most studio lighting needs. It also features a choice of over 360 static light colours on the RGB spectrum and can cycle through the entire spectrum at a speed of your choice. With six pre-programmed special effects in a simple-to-use menu system, this NanLite RGB light tube makes it easy to create lighting scenes that can otherwise be difficult to replicate. 
At the touch of a button, you can output the red and blue flash of a police car, a flickering flame (candlelight), the flash of a lightning storm, the Flicker of a TV screen, the flicker of a dying light bulb. and an SOS signal. Each of the special effects has many different settings to help you adjust it and create the exact effect you need, as well as a built-in LCD panel showing you exactly what settings you're using, making it easy to fine-tune and then recreate them in future. With easy-to-use dials and buttons built into the light tube, as well as built-in 2.4GHz radio control and master/slave functions, this RGB tube light is versatile enough to fit right into your existing set up without needing a lot of extra preparation. 
With a Built-in 2.4Ghz receiver the PavoTube II 6C is designed to work with the Nanlite NNRC1 remote control and the Ledgo LGA30 WiFi controller, compatible with iOS or Android devices. Perfect for use in the studio or on location, this lightweight tube is also available in larger 2-foot and 4-foot lengths. All length variants are 1.9 inches in diameter making them T12 compatible. It can be powered using the included AC adapter and also has two built-in 2200mAH batteries for use where no mains power supply is available. Supplied in a padded carrying case complete with all the accessories you need to get going, including mounting clips for adapting your light to a tripod or the wall. 
The Pavotube has octagonal ends, allowing it to be placed on the floor or a surface at a specific angle to give you maximum control over the throw of the lighting. The larger 2-foot and 4-foot variants are available as single lights as well as kits of two lights and four lights. 

Studio Quality Lighting
An amazingly versatile special effect light lighting fixture that featuring 0-100% dimming, adjustable colour temperature from 2700K-7500K as well as a full spectrum RGB and pre-programmed special lighting effects.
Full Creative Control
Easily achieve beautiful results without adding plastic filters or gels. The PavoTube Tubes' easy-to-use dials and buttons enable you to dial temperature from warm to cold (6500K-2700K) or hue and saturation in RGB mode.
Power Anywhere
The built-in battery of PavoTube II 6C can run for more than 1 hour at full power and can last up to 10 hours at 1%. 
The PavoTube II 6C features a USB Type-C port for charging and future firmware updates, ensuring your light is futureproof.