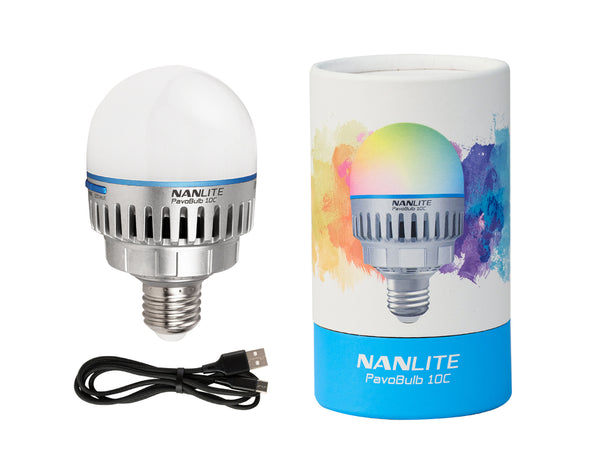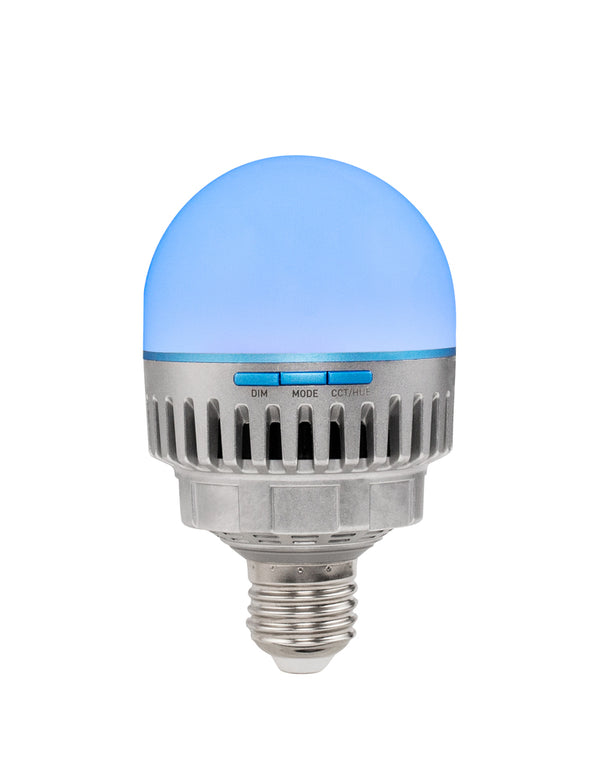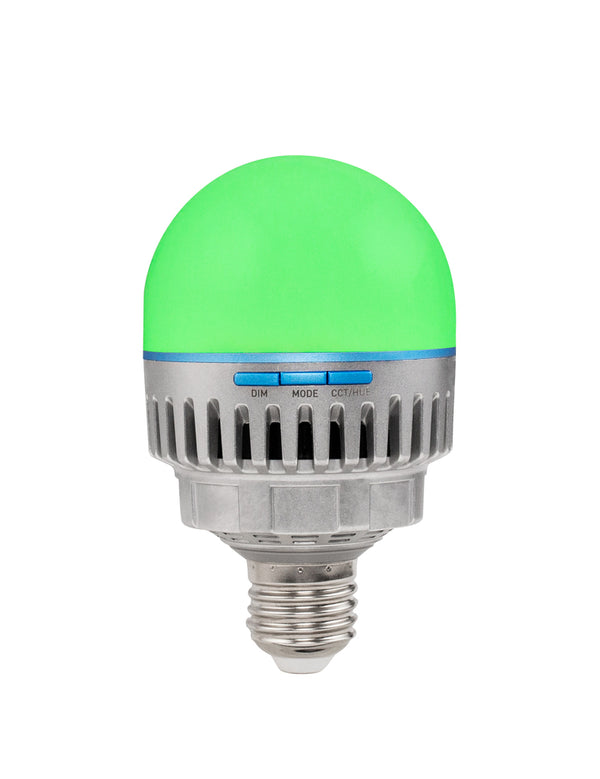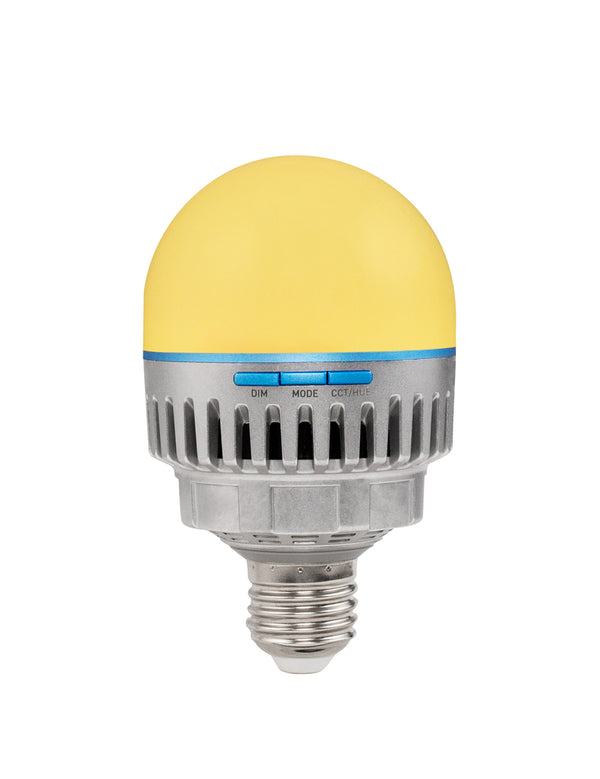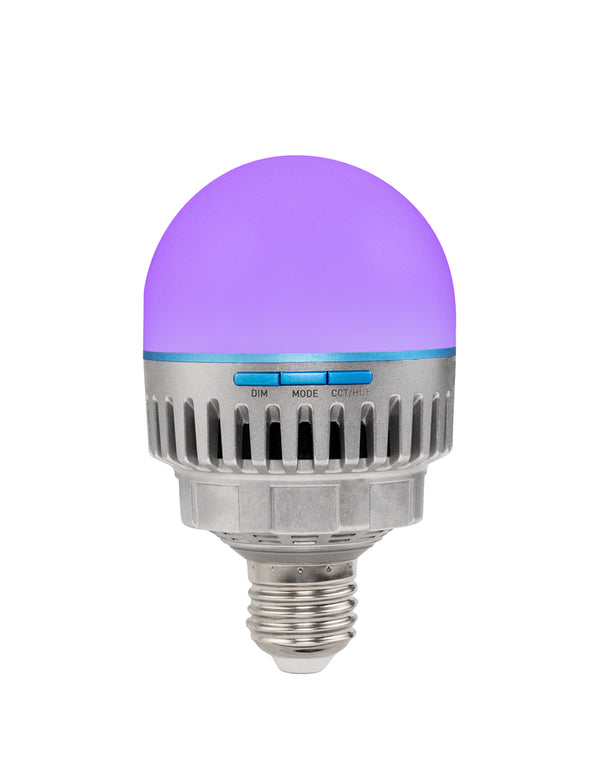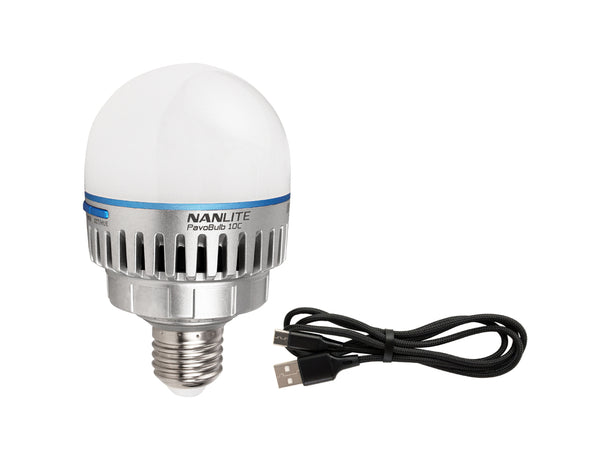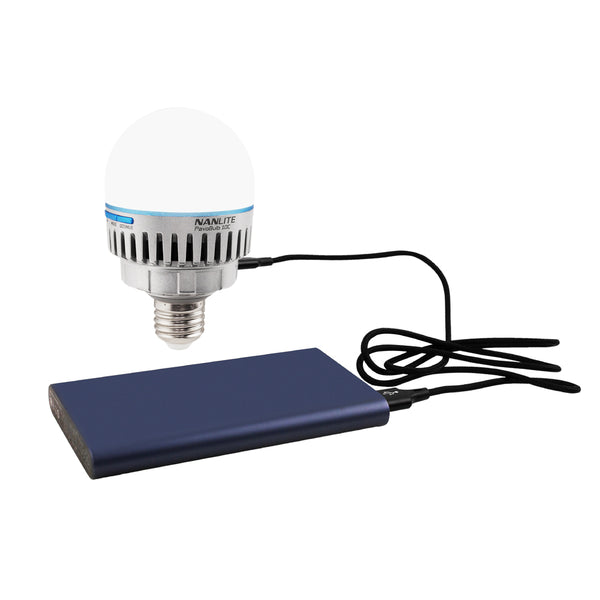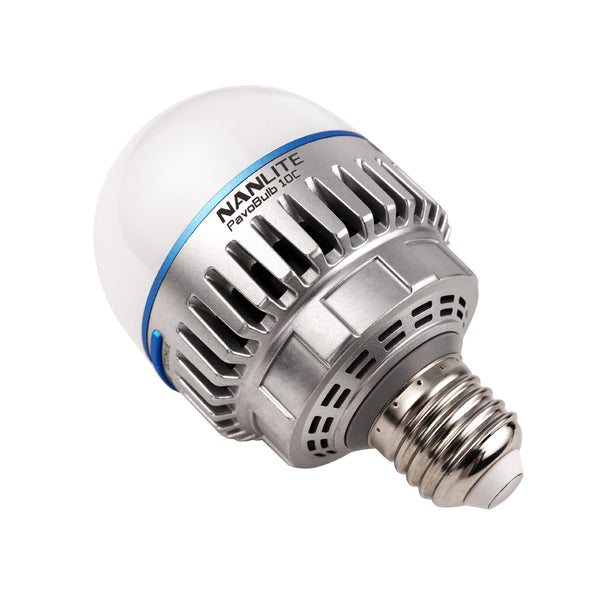 The PavoBulb 10C Bi-Color RGBWW LED Bulb is an LED bulb that was made for creative production.
When attached to an E27 screw mount lamp socket and provides highly accurate light with a CRI of 95 and TLCI of 97. It has an expanded color temperature range of 2700 to 7500K, with stunning RGB color and 15 built-in, customizable effects. Quick setup with the 3 function buttons and the unit also has built in wireless control via Bluetooth using the free NANLINK mobile app or through 2.4G using NANLINK remote controls.
A USB Type-C port allows the PavoBulb 10C to be powered with an external battery for long runtimes when plugging into AC isn't an option. An optional USB Type-C to DMX Cable can be attached to the USB Type-C port to enable full DMX control. The PavoBulb 10C offers complete control over dimming, color temperature, green-to-magenta shift, and more. The PavoBulb 10C has the form factor of a conventional incandescent light bulb and screws into a standard E27 base, making it possible to install in an on-set lamp as a natural-looking, in-scene light source.
The color temperature can be adjusted from 2700 to 7500K, and the green-to-magenta shift can be adjusted to match other light sources. A USB Type-C port allows powerful batteries to be used for long runtimes when AC isn't available, and it allows DMX control using the optional USB Type-C to DMX Cable.
For wired operation, the separately available Nanlite Control Bank allows fine-tuning settings like green-to-magenta shift without using the app or wireless network.
The full-dome diffuser provides attractively soft and even light with a wide 205° beam angle. Advanced RGBWW color-mixing technology provides the highly accurate rendition of 36,000 colors. There are 15 built-in, easily customizable lighting effects, and when controlling with the NANLINK mobile app, the effects can be saved as recallable presets.
The PavoBulb 10C provides complete control over the practical lights in productions, but it's also a part of the larger Nanlite ecosystem of professional lighting fixtures. It can be used and controlled alongside Nanlite LED tube lights, LED panels, and monolights, all of which can be wirelessly controlled with the NANLINK app and remotes.
The PavoBulb 10C fits into a standard E27 socket and is powered from the lamp's AC, but it also has external battery capabilities for locations without available AC. A range of optional accessories allows it to be used anywhere. The Nanlite E27 Magnetic Mount and AC Adapter is an optional accessory with a magnetic mount, providing more freedom for placing a PavoBulb in shots to appear as a normal lightbulb when used in the frame, providing scene-based lighting.