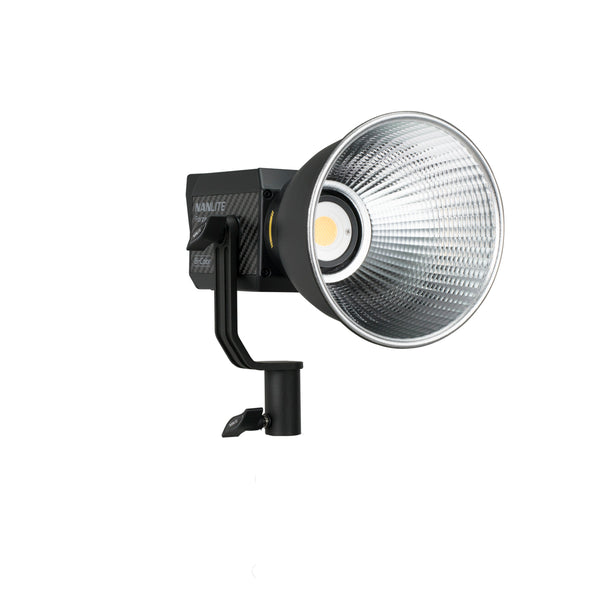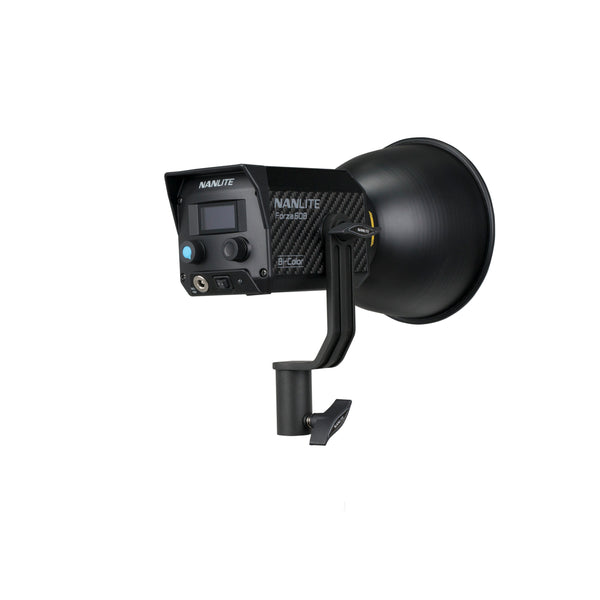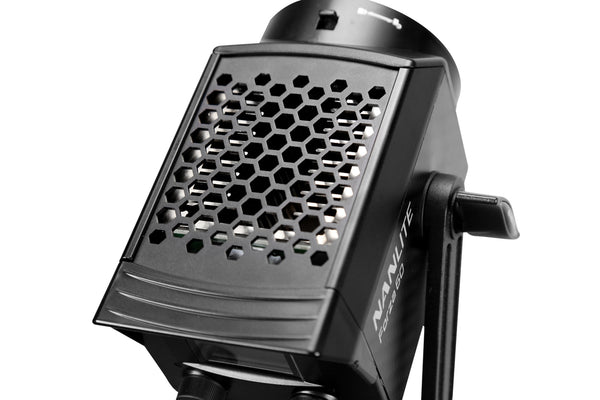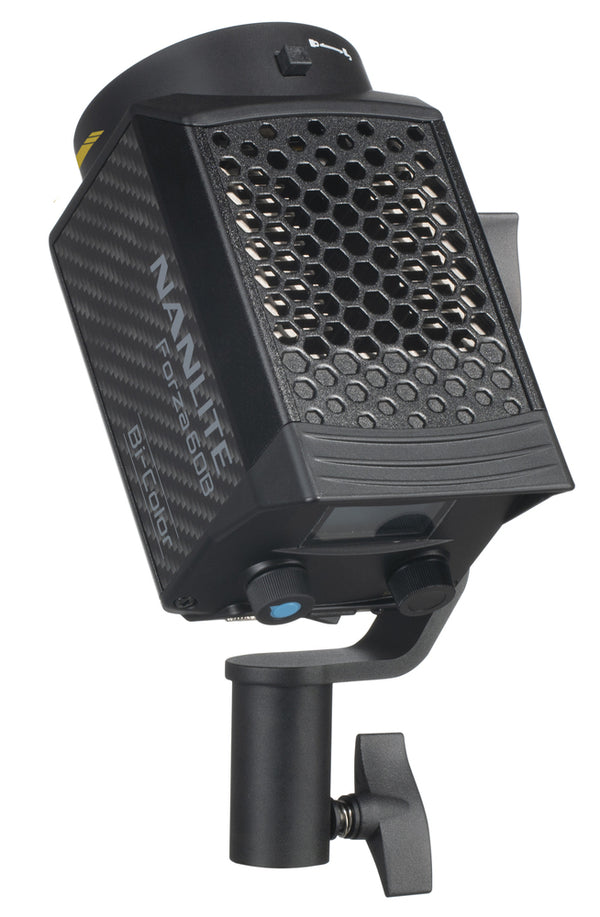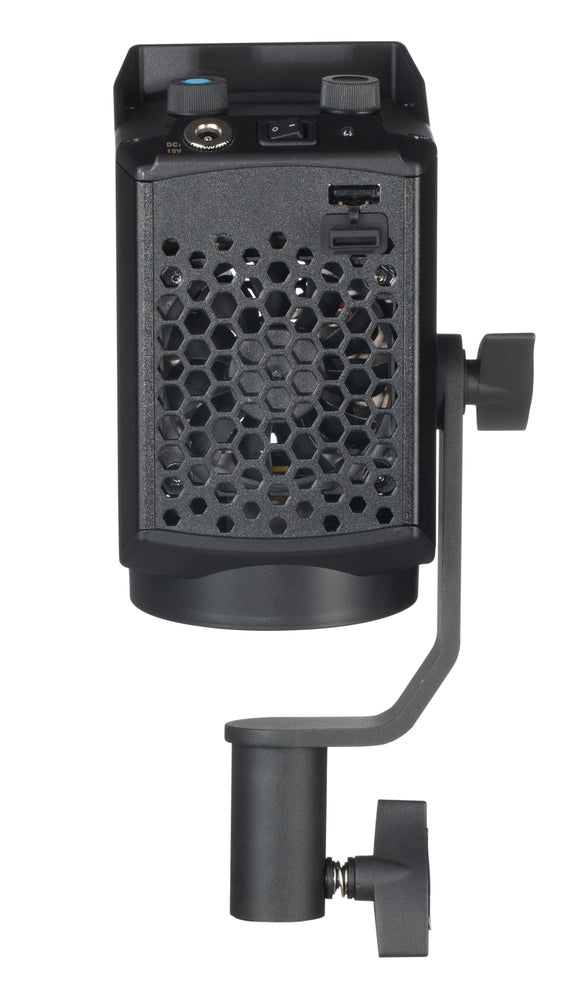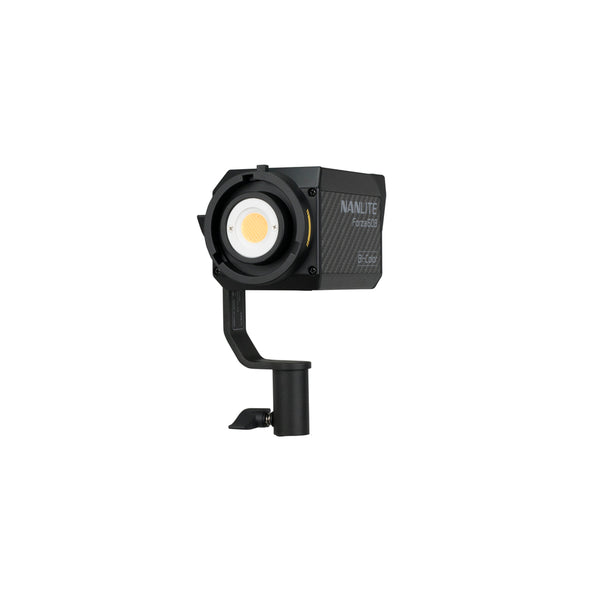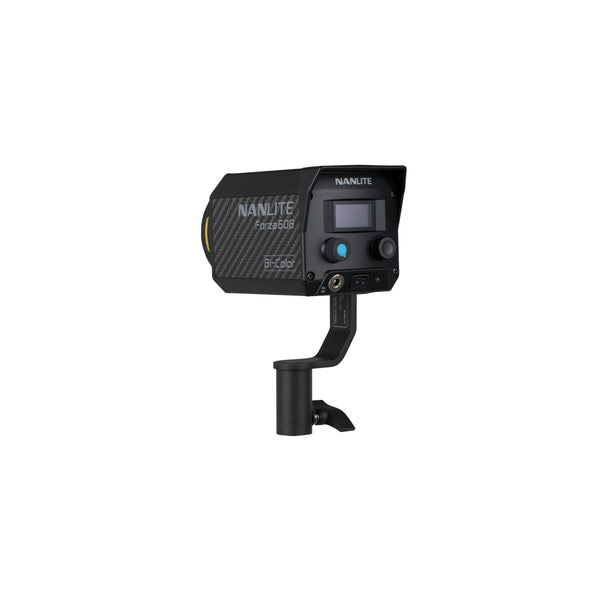 The Forza 60B Colour Adjustable LED is a monolight style light fixture with remarkable light output relative to its size.  
Weighing only 0.8kg, the Forza 60B is the first bi-color member of the Forza series. The Forza 60B goes beyond our current Forza 60's 5600k daylight spot and offers a wider 2700-6500K colour range.  This allows you to quickly match natural ambient or artificial lighting situations, easily at the twist of a dial, making it easy to get accurate balanced colours without the need for gels, saving you time and money. 
The 60B employs a COB LED module to output 13830 Lux of 5600K daylight-balanced light at 1 metre with the included reflector. All while maintaining an average CRI/TLCI of 96 and 98, ensuring accurate colour rendition.
Ultra Bright Output 
With the included reflector, the Forza 60B emits an impressive 13850 Lux at 5600K at 1 metre. With with dimming from 100% down to 1% you can quickly adapt the Forza 60B to any scene without adding ND filters or diffusion.
Mini Mount system. with dedicated accessories to fit
The Forza 60B has a mini mount, which allows you to use all Forza 60 modifiers. The now included Bowens adapter will allow you to attach standard Bowens modifiers, making the Forza 60B compatible with a massive selection of light modifiers, including but not limited to NANLITE's line of softboxes and umbrellas.
Lightweight Compact Design 
Created to eliminate the difficulties of travelling with large light fixtures the Forza 60B weighs only 0.8kg (not including reflector) and is compact enough to be easily packed into your camera bag.
Colour Perfection 
The brightness of a light is important, but without colour accuracy, a ton of time and money will be lost in post-production. The Forza 60 features an Average CRI of 96 and an Average TLCI of 98 meaning you can shoot with confidence knowing the colour reproduction will be precise.
Practical Effects 
The Forza 60B includes 12 different practical lighting effects -- CCT Loop, INT Loop, Flash, Pulse, Storm, TV, Paparazzi, Candle/Fire, Bad Bulb, Firework, Explosion and Welding. All of these are designed to enhance your work and save you time creating complex lighting scenarios.  
Optional wireless and DMX Control 
With the optional Nanlite WS-RC-C2 control, you can wirelessly adjust the Forza 60 brightness and colour. Or, with the optional Ledgo A30 Wireless DMX controller, you can connect to the Forza 60 wirelessly and use the Ledgo App to adjust the brightness and colour.
Power Anywhere 
Optimized for use in the studio or on location, the Forza 60B can run off either the included AC adapter, or a 14.8V V-Mount battery (not Included) via D-Tap connector, or the Optional V-Mount battery handle.
It can also be powered by 2 x Sony style NP-F batteries using the now included NPF battery handle. With so many power options, you can operate in any location regardless of power availability.
Studio and Location Ready 
Supplied with a standard 5/8" receiver mount, the Forza 60 can be mounted directly on any standard light stand and the 330-degree rotating yolk makes it easy to adjust an angle or hang the light from a ceiling for studio use.
Silent Cooling system
The Forza 60B is equipped with a 60,000 hours lifetime rating. Ensuring the fixture performs at its best for longer. Emitting a low 20dB audible output at full power, it is at home in even the most sound-sensitive situations. Forza 60B also supports turning off the fan to achieve complete silence at lower power outputs. 
Support for Firmware Updates & Wireless Control
The Forza 60B has a USB port to enable firmware updates to keeps the light open to future possibilities. Additionally, it can be wirelessly controlled via 2.4G controllers, making it the ideal light for all levels of production.
Battery Handle Included
Operate the Forza 60B with this convenient battery handle, and power the light from 2 x NPF Batteries (available separately)
Bowens adaptor Included
Use the Forza 60B with light modifiers that use the common Bowens mount using the included adaptor.